i have moved off etsy and on to square as my primary storefront. i can offer better prices and easier combined postage (and an option for tracked postage!!).
there is a special discount for purchasing 4 or more zines which you can do from the "pick your own four zines" listing. if you'd like to buy more than four zines (and make my day) please get in touch via email at vipcustomer@aomm.xyz and i'll organise a good price for you!
link to the new store here!
etsy will stay up, so if you'd prefer that platform, please feel free to visit my etsy store
specials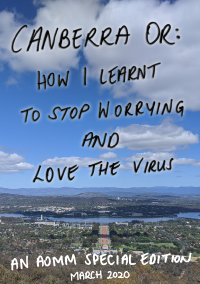 canberra, or how i learnt to stop worrying and love the virus
a zine about a trip i took to canberra in march 2020
the main collection